Gun violence claiming more lives of US children
JIM SALTER AND C L AU D IA LAUER
Associated Press
ST. LOUIS — Gun violence is killing an increasing number of American children, from toddlers caught in cross fires to teenagers gunned down in turf wars, drug squabbles or for posting the wrong thing on social media.
Shootings involving children and teenagers have been on the rise in recent years, and 2021 is no exception. Experts say idleness caused by the COVID-19 pandemic shares the blame with easy access to guns and disputes that too often end with gunfire.
LeGend Taliferro, a 4-yearold boy who loved dinosaurs and basketball, was sleeping on the floor in an apartment in Kansas City, Missouri, when he was shot on June 29, 2020. A man who had been involved in a dispute with LeGend's father is awaiting trial for second-degree murder. A probable cause statement said the suspected shooter had been trying to find LeGend's dad after that altercation.
'Why do we have to resort to violence because we're mad?' LeGend's mother, Charron Powell, asks. 'What are other ways we can figure out an issue without harming somebody?'
The U.S. saw 991 gun violence deaths among people 17 or younger in 2019, according to the website Gun Violence Archive, which tracks shootings from more than 7,500 law enforcement, media, government and commercial sources.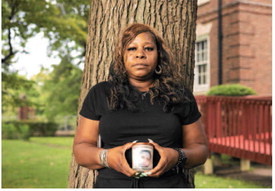 Shineka Crawford stands outside the Prince Hall Grand Lodge in Philadelphia, where she came to drop off a memento of her son, Shaquille Barbour, 18, to The Gun Violence Memorial Project. Shaquille was shot 13 times and killed while riding his bike.
RYAN CO LLERD, ASSOCIATED PRESS
That number spiked to 1,375 in 2020 and this year is on pace to be worse. Through Monday, shootings had claimed 1,179 young lives and left 3,292 youths injured.
FBI data backs that up. The agency released a report on Sept. 28 showing homicides in the U.S. increased nearly 30% in 2020, and homicides among people ages 19 and younger rose more than 21%.
Horror stories abound.
In St. Louis, 9-year-old Caion Greene died in March when someone opened fire on his family's car. A 17-year-old is charged in the crime. Police and prosecutors have declined to discuss a motive or say what prompted the shooting.
Two Minneapolis children were gunned down in May. N ineyear- old Trinity Ottoson-Smith was shot in the head while jumping on a trampoline. Police said she was the unintended victim of a bullet meant for someone else. No arrests have been made. Sixyear- old Aniya Allen was shot when her mother drove her car through a gun battle.
On Oct. 2 in Milwaukee, an 11-year-old girl was killed and a 5-year-old girl was injured when someone fired into their family's car from another vehicle. Police have not said if they know of a motive and are seeking information from the public.